A Course under the joint certification of FDPPI and DNV for Data Auditors has just been completed. This wa a comprehensive course for aspiring Data Auditors in India. It covered about 24 hours over 4 week ends. The recorded sessions of these are now available . Towards the end of the Course since DPDPA 2023 became an act provisions of the changed Act was also covered through a bridging sesion. As a result this batch became the first batch of professionals who have been trained on the new DPDPA 2023.
This program was as follows.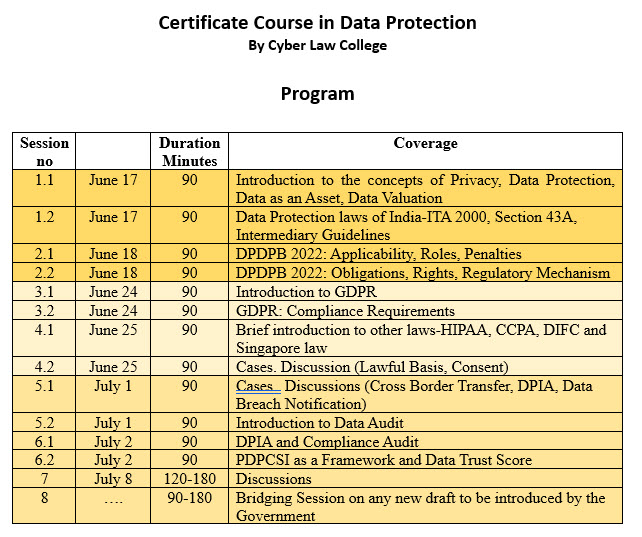 Now for the next batch the session on DPDPB 2022 will be replaced by DPDPA 2023 and Sessions on ITA 2000 will be suitably updated. Additionally the audit portion will also be revised with more coverage on PDPCSI and ISO 27701.
The course is expected to be launched in October 2023. The current price of Rs 45000/- which is inclusive of Registration in Indian National Register of Data Protection Professionals and Basic membership of FDPPI is likely to be revised in October before the course is launched. However the current price will apply for all those who register before the revision.
The participants of this course can either obtain a "Participation Certificate" after completing the program (100% of classes/videos need to be attended). They can also take an online examination (Proctored examination for 120 minutes) and on successful completion will be eligible for a Certificate as "Certified Data Protection Professional".
Participants will also be eligible for a complimentary Basic membership of FDPPI (worth Rs 6000/-) and Registration in the Indian National Register of Data Protection Professionals.